Administrator profile
Nickname: Shimo-san
Real name: Akira Shimojima
I was born in Tokyo, Japan in 1960. Graduated from art university. After working for a company of design and architecture, I became a freelance writer. Then I used to write about PC and IT. Currently, I am managing "zk360.site" and "JiLAYs.com". "JiLAYs.com" is a Japanese website, introducing good examples of IT, eco, and architecture. Climbing and photography were my hobbies, but now they are merging with my main business.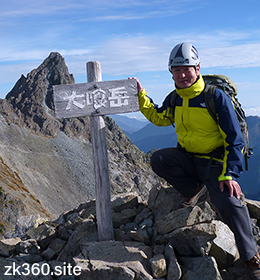 Like: Travel, superb view.
Weak: Very hot foods.
Ambition: Peaceful world with ZEKKEIs.
If you like, here too …
[blog] Please call me "Shimo-san".
[blog] What's ZEKKEI.
Note: I'm a Japanese writer and not a native English speaker. So if you notice any mistakes or unnatural expressions in English on this website, please let me know using contact form. Thank you.
Operating firm
Firm name: Studio Entrata.
Representative: Akira Shimojima
Location: Hachioji-shi, Tokyo, Japan.
History

In July 1991, Akira Shimojima started a content production business as a freelance writer. And, established a personal office Studio Entrata.
Business content
Planning and operation of website "JiLAYs.com" and "zk360.site".
Writing and editing of magazine articles, books, and web contents.
Copywriting for advertisements.