Kami-kochi is located in the southern part of the North Alps of Japan, and you can enjoy a superb view without climbing a mountain.

Photo 1: Azusa River and Kappa Bridge. Mt. Oku-hotaka and Tusurione ridge can be seen over the bridge. This bridge is a popular spot in Kamikochi. (2016/9/27)

Photo 2: View the lower reaches of the Azusa River from Kappa Bridge. The mountain in front is Mt. Yake-dake. (2016/9/27)

Photo 3: Dakesawa Marsh, about a 15-minute walk from Kappa Bridge. A very beautiful little-known spot. (2016/9/27)
Photo 4: Overlooking Kami-kouchi from the Tsurione ridge between Mt. Oku-hotaka and Mt. Mae-hotaka. There is a Kappa Bridge in the red circle. (2016/9/30)
The title image changes every 5 seconds.
Kappa Bridge is a symbol of Kami-kouchi and the best viewing spot.
In Japan, we hear the weather forecast commenting that "strong cold air is flowing into the sky 1,500m …", in winter. We feel the altitude of 1,500m is very high, but Kami-kouchi is 1,505m above sea level. And it is a tourist destination that can be reached by bus.
Kami-kouchi is famous for the Kappa Bridge over the Azusa River. And the view of the Hotaka mountain range from there is wonderful.
In the first title image of this article, "Kami-kouchi" is written in Japanese characters (Kanji). The meaning of this letter is "Upper high land". However, it is said that it used to be written in another letter with the same pronunciation as "the land where God descends."
And this place has a deep connection with an Englishman who is called "the father of modern Japanese mountaineering".
Missionary and mountaineer Walter Weston stayed in Japan three times in the late 19th and early 20th centuries, during which time he climbed many Japanese mountains. After returning to England, he published a book titled "MOUNTAINEERING AND EXPLORATION IN THE JAPANESE ALPS".
Prior to that, mountains were a place of religion and hunting in Japan. It is his great achievement to create an opportunity for Japanese people to know the joy of mountain climbing and to introduce the beauty of Japanese mountains to Europe. Therefore, the Kami-kouchi Weston Festival is still held every June.
*The following three spherical panoramic photos can be viewed on a wider screen by clicking or tapping "THETA" at the bottom left of the photo.
この写真は、Webサイト『絶景360』の一部です。『絶景360』は、こちら(http://e.zk360.site)からご覧いただけます。 – Spherical Image – RICOH THETA
Spherical panoramic photo taken on the Kappa Bridge. (2017/9/25)
この写真は、Webサイト『絶景360』の一部です。日本語版は、こちら(https://zk360.site)からご覧いただけます。 This photo is part of the website "zk360.site". English version URL is https://e.zk360.site/ – Spherical Image – RICOH THETA
Spherical panoramic photo taken on the Kappa Bridge. (With mountain name)
この写真は、Webサイト『絶景360』の一部です。『絶景360』は、こちら(http://e.zk360.site)からご覧いただけます。 – Spherical Image – RICOH THETA
Spherical panoramic photo at Dakesawa Marsh (2016/9/27)
Other beautiful places around Kami-kouchi.
Climbers aim for the Hotaka mountain range and Mt. Yari-ga-take starting from Kami-kouchi. To reach the Karasawa cirque, which is known for its beautiful autumn colors, first walk a 10km forest road. And from Yokoo, there is a mountain trail.
Tourists often take a walk from Kappa Bridge to Myojin Pond, which is about an hour's walk away. If you go downstream of the Azusa River, you can see beautiful scenery around Tashiro Pond and Taisho Pond.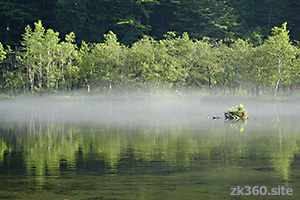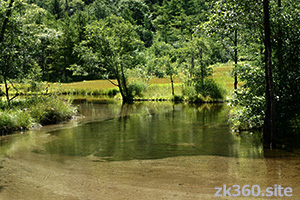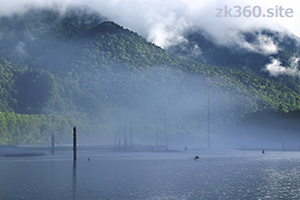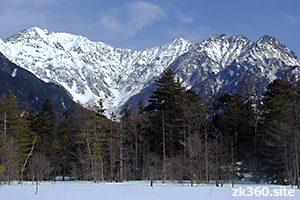 Mountain area
Southern part of Japan North Alps
How to access to Kami-kouchi
Throughout the year, private cars are regulated, so go by bus or taxi. From Matsumoto Station in Nagano Prefecture, take the ALPICO Kotsu Kami-kouchi Line to the terminal station, Shin-shimashima. It is common to get on the bus from there. When entering from Gifu prefecture, take a bus from Hirayu Onsen. Buses do not operate in winter because the road is closed.
Go to A-Z index
Go to area index